The R-T Cat Ranch is named for an orange tabby cat with a Ring Tail named Artie. Actually, there were 2 Artie's, both now gone, but the name has stuck.

There are currently 5 indoor cats running the ranch:

Max- A solid black 13 pound male with an attitude.
Willie- A Tuxedo male at about 14 pounds with a sweet disposition.
Katie- Grey tabby over white female.
Cassie- A longhair orange tabby weighing about 12 pounds.
Hobbes- The new kitten born Nov 2004. Longhair grey tabby over white.

In addition to the 5 indoor cats, there are a number of "outdoor cats" that we have trapped, tested, vaccinated, altered and released (TTVAR). There cats are fed at an outdoor cat feeder. Any time a new cat shows, up, it is trapped tested and fixed. We give names to these outdoor cats so that we can identify them.
Artie II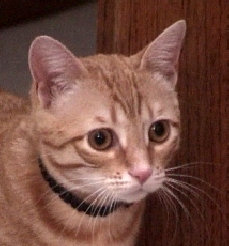 Modified Nov 25, 2009